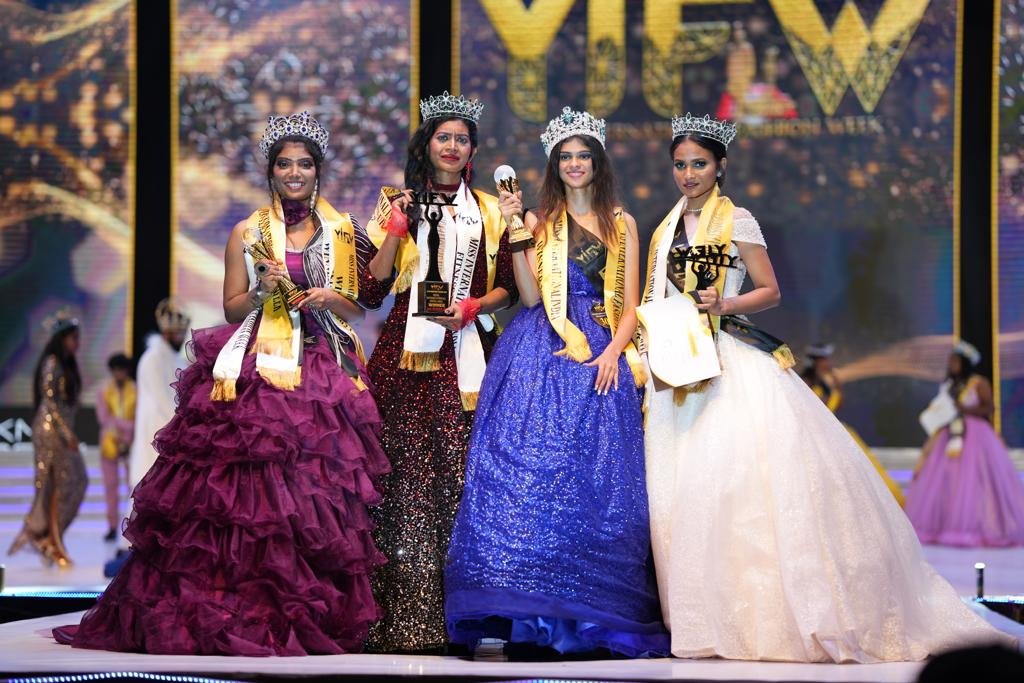 In the enchanting city of Mysore, where history and modernity blend seamlessly, a young and vibrant personality has been making waves in the realm of fashion and glamour. Punyamrutha S Shetty, a name that resonates with grace, ambition, and potential, has been carving her path towards success in the world of modelling.
From Roots to Runways: A Glimpse into the Life of Punyamrutha
Born to parents Shekar K and Rathna K on the 26th of February in 2005, Punyamrutha S Shetty's journey began in the captivating city of Mysore. As a student, she's currently pursuing her 1st BCom at Seshadripuram Degree College, Mysore. Her youthful exuberance and determination to carve a unique identity have led her to the world of modeling.
A Crowned Journey: Achievements and Recognition
Punyamrutha's journey in the modeling world has been nothing short of impressive. She has secured the coveted title of Miss Mysore Iconic Runner Up, Miss Teen Mysore, and was a Runner Up in Teen India Icon 2022. Her accomplishments continued to flourish as she also secured a title in Teen South India 2022. These accolades serve as a testament to her dedication, confidence, and ability to shine under the spotlight.
Dreams and Aspirations: A Gaze towards the Horizon
For Punyamrutha, the runway is just the beginning. Her aspirations reach far beyond the glitz and glamour of modeling. She envisions herself not only as a successful model but also as an independent woman who can inspire others through her journey. Her ambition is a reflection of her determination to break barriers, shatter glass ceilings, and leave a lasting impact on the world.
The Story Unfolds: A Glimpse into Punyamrutha's Persona
"I'm Punyamrutha S Shetty, 18 years old from Mysuru." With these words, Punyamrutha introduces herself, embodying confidence and self-assuredness. As an NCC cadet, she exemplifies discipline and determination. Her journey into modeling commenced two years ago, and since then, her passion for the industry has only intensified. The stage fear that plagues many has no hold over Punyamrutha, as she stands tall with enhanced confidence and an infectious smile.
Beyond the Ramp: Empowerment and Growth
Punyamrutha's journey goes beyond the glimmering lights of the runway. Her determination to become an independent woman mirrors her commitment to empowerment and self-growth. With her education, modeling, and life experiences, she's not only shaping her own path but also inspiring others to step into their power and follow their dreams.
Fashioning Confidence: Punyamrutha's Unique Charm
Punyamrutha S Shetty's journey isn't just about achieving titles; it's about embracing her unique charm and channeling it into the world of fashion. Her confidence is infectious, radiating through her every step on the runway. It's not just about the dresses she wears or the makeup she dons; it's about how she carries herself with elegance and poise, becoming an embodiment of self-assuredness and grace.
Empowering Through Expression: Punyamrutha's Impact
Punyamrutha's story goes beyond the realm of fashion. Her journey is a testament to the power of following one's passion fearlessly. By stepping onto the stage, she's sending a message to young individuals everywhere that dreams are worth pursuing, and self-belief can take you places. Her journey stands as a living example that empowerment comes from embracing one's identity and expressing it confidently.
Catalyst for Change: The Role of Family and Society
Behind every success story, there's a strong support system. Punyamrutha's parents, Shekar K and Rathna K, have been pillars of encouragement in her journey. Their unwavering belief in her potential has acted as a catalyst for her aspirations. Moreover, her journey also signifies a shift in societal norms, where young women are breaking free from traditional molds to pursue their dreams, unapologetically and boldly.