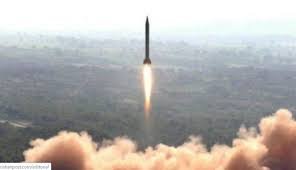 Recent satellite images obtained exclusively by CNN have exposed significant expansions and upgrades at nuclear test sites operated by Russia, the United States, and China. These developments come at a time when tensions among these major nuclear powers have reached levels not seen in decades.
Growing Facilities and Tensions
While there is currently no concrete evidence indicating immediate plans for nuclear testing by Russia, the United States, or China, the images depict considerable enhancements at their respective nuclear test sites in comparison to just a few years ago. The report states that these images were provided by a renowned analyst specializing in military nonproliferation studies.
The identified nuclear test sites include one operated by China in Xinjiang's far western region, one by Russia in an Arctic Ocean archipelago, and another in the United States located in the Nevada desert. The satellite imagery spanning the past three to five years has revealed the construction of new tunnels beneath mountains, the establishment of fresh roads and storage facilities, and heightened vehicular activity entering and leaving these sites.
According to Jeffrey Lewis, a professor at the James Martin Center for Nonproliferation Studies at the Middlebury Institute of International Studies, these images offer "a lot of hints that suggest Russia, China, and the United States might resume nuclear testing," despite the 1996 Comprehensive Nuclear Test Ban Treaty banning underground nuclear testing. Notably, China and the United States have signed but not ratified this treaty.
Retired US Air Force Colonel Cedric Leighton, a former intelligence analyst, concurred with this assessment, emphasizing that all three countries—Russia, China, and the United States—have invested substantial resources into not only modernizing their nuclear arsenals but also preparing the necessary infrastructure for testing.
The Complex Scenario and Risks
While Russia has ratified the Comprehensive Nuclear Test Ban Treaty, Russian President Vladimir Putin, in February, suggested that he would order a nuclear test in response to a similar move by the United States, cautioning against "dangerous illusions that global strategic parity can be destroyed."
Analysts warn that these expansions at nuclear test sites raise concerns about a potential race to modernize nuclear weapons testing infrastructure. This scenario unfolds amid deep mistrust between Washington and the two authoritarian governments, even though armed conflict is not seen as an immediate threat.
"The threat from nuclear testing is from the degree to which it accelerates the growing arms race between the United States on one hand, and Russia and China on the other," Lewis remarked. "The consequences of that are that we spend vast sums of money, even though we don't get any safer."
As the international community observes these developments with apprehension, the future of arms control agreements and global security remains a topic of paramount concern.