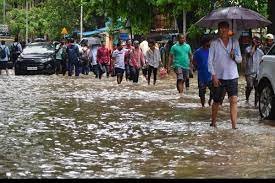 On Tuesday, Mumbai experienced its second wettest day of the season as heavy rainfall measuring 120mm was recorded, causing significant disruptions to commuters and local train services. The downpour, although not resulting in severe waterlogging, led to delays in train operations on both the Central and Western Railways (CR and WR), with the suburban rail network being particularly affected during the morning hours due to technical failures.
The India Meteorological Department (IMD) reported that the city's Santacruz weather station received the substantial rainfall, making it the second-highest rainfall recorded this season, following July 7 when it received 125mm of rain in a single day. While waterlogging wasn't severe, the torrential downpour threw life out of gear at several locations.
Commuters on both the CR and WR complained of prolonged delays throughout the day. The CR witnessed two technical failures during the morning hours, with the engine of the Lokmanya Tilak Terminus-Gorakhpur Express facing issues around 7 am. However, rail traffic continued via the loop line in Atgaon, keeping the flow intact. Nevertheless, the Kalyan-Kasara stretch experienced over an hour of disruption, leading to delays of almost 30 minutes for many trains and some cancellations.
Similarly, the WR faced a points failure at Santacruz around 9.55 am, which was rectified by 10.20 am, but caused delays of 10 to 15 minutes for running trains. Commuters expressed frustration with the lack of announcements inside the trains during delays, suggesting that better communication from the authorities could improve the overall experience.
On the city roads, traffic authorities claimed that the situation was normal, but many commuters complained of extremely slow traffic movement during peak hours. A vehicle breakdown on Vakola flyover and Elphinstone Road bridge resulted in traffic snarls.
The IMD issued an 'orange' alert for Mumbai, indicating the likelihood of more severe weather. A low-pressure area in southern Jharkhand and the anticipated formation of a cyclonic situation over the Bay of Bengal are expected to enhance monsoon activity over the Konkan region, including Mumbai.
Despite intermittent wet spells and heavy showers, Mumbai has already surpassed the normal rainfall amount for this period. Since June 1, the city has received 1,306.6mm of rain, which is 22% more than the usual 1,067mm during the same period. In July alone, Mumbai received 757mm of rain, which is 43% more than the normal amount of 430mm up to July 18.
With the weather situation expected to remain unfavorable for heavy downpours, commuters and authorities are bracing for potential disruptions in the coming days.
BOX: Day of Downpour 24-hour rainfall across Mumbai (as of Tuesday morning):
Santacruz — 119.9mm
Colaba — 106.0mm
Dahisar — 93mm
Ram-mandir — 82.5mm
Chembur — 70.5mm
Vidyavihar —106.5mm
Byculla —81.0mm
CSMT — 111.0mm
Matunga — 74.0mm
Sion — 91.0mm
Sources By Agencies