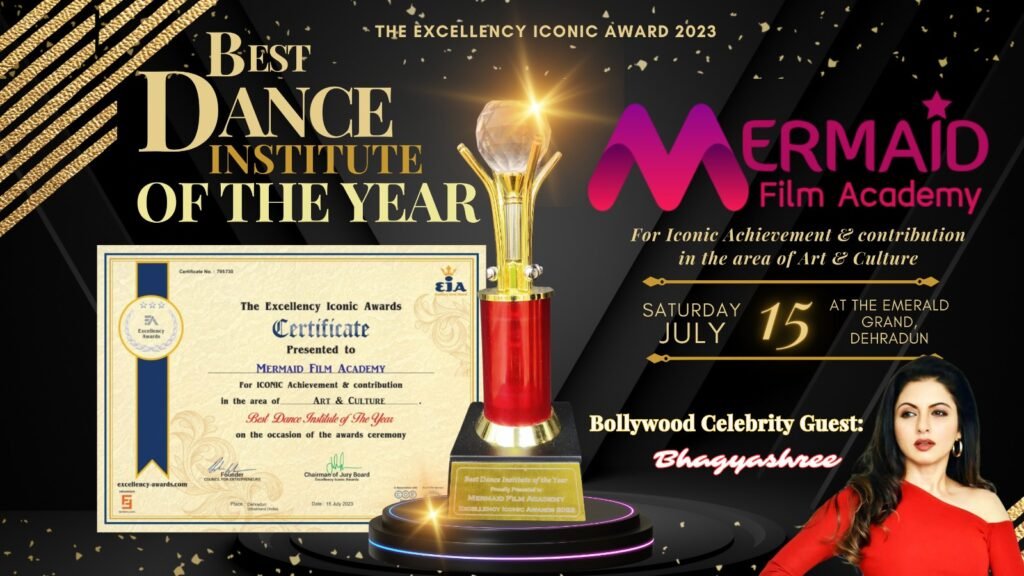 Mermaid Film Academy, a renowned dance school based in Kolkata, has been bestowed with the prestigious award of "Best Dance Institute of the Year" at the esteemed "The Excellency Iconic Award 2023." The award ceremony witnessed the presence of the illustrious Bollywood celebrity guest, Bhagyashree, amidst a galaxy of stars, held in Dehradun, Uttarakhand, on 15th July 2023.
The Excellency Iconic Award is a highly anticipated annual event that celebrates excellence in various fields of entertainment and art. The Best Dance Institute of the Year category recognizes dance schools that have showcased outstanding achievements and exceptional contributions to the dance industry.
Mermaid Film Academy's well-deserved recognition as the Best Dance Institute of the Year is a testament to their unwavering commitment to excellence, innovation, and the art of dance. The academy has carved its niche as a trailblazer in the dance education landscape, fostering the growth of talented students and providing them with a remarkable platform to showcase their skills.
Khushi Kahar, renowned choreographer of Kolkata and the founder director of Mermaid Film Academy expressed her joy on receiving this prestigious award. "We are deeply honored and humbled to receive the Best Dance Institute of the Year award. This recognition is a testament to the hard work, dedication, and passion of our talented students and the unwavering support of our guardians. We extend our heartfelt gratitude to The Excellency Iconic Award for this incredible honor and Bhagyashree for gracing the event with her presence. It motivates us to continue our pursuit of excellence in the world of dance."
For six remarkable years, internationally recognised & affiliated institute Mermaid Film Academy has been a prominent name in the Kolkata dance scene. Offering a diverse range of dance forms, world-class training, and a nurturing environment, the academy provides students with the opportunity to explore their creativity and achieve their fullest potential as dancers.
Guided by a mission to promote dance as an art form and empower young talent, Mermaid Film Academy has made an indelible mark on the dance community. Their visionary approach and dedication to producing exceptional dancers have positioned them as a beacon of excellence in the industry.
This prestigious award is a testament to the academy's relentless dedication to the art of dance and the unwavering support of its talented students and devoted guardians. Mermaid Film Academy continues to inspire, educate, and shape the future of dance not only in Kolkata but also beyond.
For further information about Mermaid Film Academy and their diverse dance programs, please visit their official website at https://www.mermaidfilmacademy.com