Woman Entrepreneur and Founder of
'SONKANCH: Thewa Jewellery Brand' thriving
In the jewellery industry.
Vinita Malviya is a 41 year old entrepreneur based in Jaipur. She is the founder of 'SONKANCH: Thewa Jewellery Brand'. She likes to contribute to the society in his own unique way. Her company is based in Jaipur and is a part of the jewellery market. Her products aim to enhance the handwork of gold and silver in jewellery, for the users through its choice of exclusive ingredients.
SONKANCH Brand is one stop solution for every gold jewellery, wedding jewellery, bridal jewellery, rajputi jewellery, silver jewellery and also men accessories/ groom accessories like no one else. Just make up is not enough after everyone requires mangalsutra, ring earrings, bracelet, etc.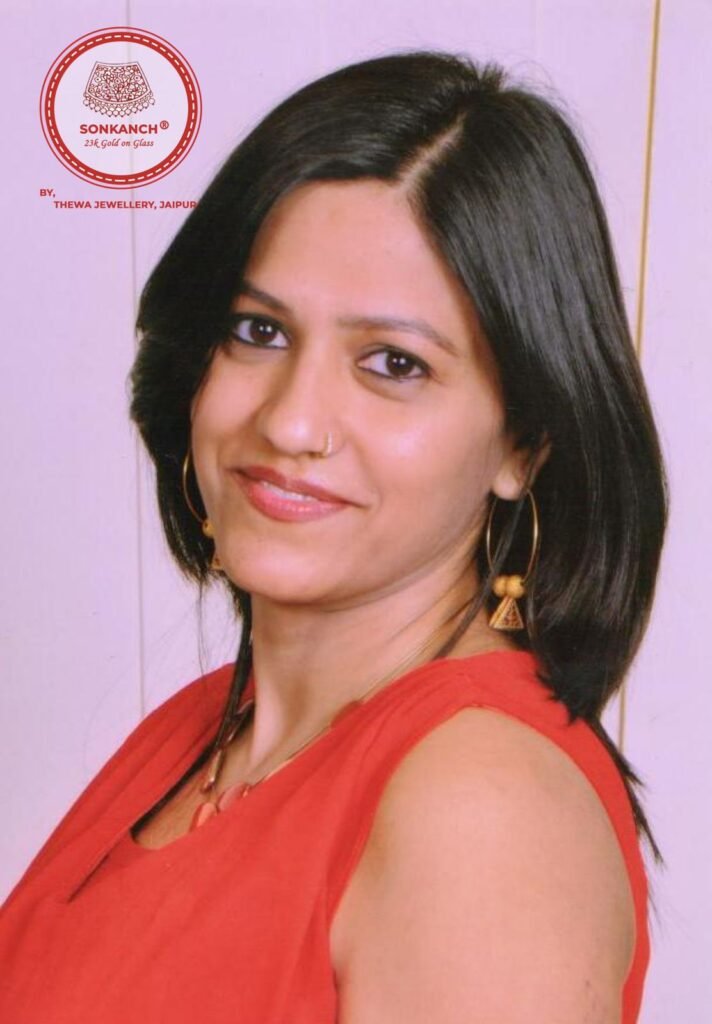 Jaipur's one of the well-known jewellery has recently rebranded their Vaishali Nagar showroom as an exclusive flagship store with the new brand name "Sonkanch" which translates as sona (gold) and kaanch (glass). The brand is dedicated to promoting Thewa art which is a relatively lesser known art of making jewellery from Rajasthan. Thewa means 'setting' which is an art of fusing 23 carat gold with multi-coloured glass a detailed and intricate process. 23 carat gold is first beaten into a very thin sheet. Intricate designs are inscribed onto these gold sheets using very fine chisels. This art evolved in the Pratapgarh district of Rajasthan and originated in Mughal Era around 400 years ago.
Talking about the concept behind SONKANCH, Founder Mrs.
Vinita Malviya explains, "The Thewa art is on the verge of becoming an extinct art, and there are very few artisans left from artisans family who are still into this. We were already working hard from the last 18 years to promote this art, and now we are coming forward to give Thewa art a national and international platform. We are also trying to give it a new refreshing look by assembling it with many other jewellery art forms such as Meenakari, Chittal, Jadaoo and more keeping in mind the mission of 'vocal for local' given by our PM Modiji, we intend to help these artisans in keeping the traditional art alive and earn good livelihood" she further added.
FOLLOW US ON INSTAGRAM:-
https://www.instagram.com/thewajewellery/
FACEBOOK:-
https://www.facebook.com/sonkanchthewa
TWITTER:-
https://twitter.com/JewelleryThewa?s=09
WEBSITE :-
Regards
SONKANCH,
Thewa Jewellery
Vaishali Nagar
Jaipur.