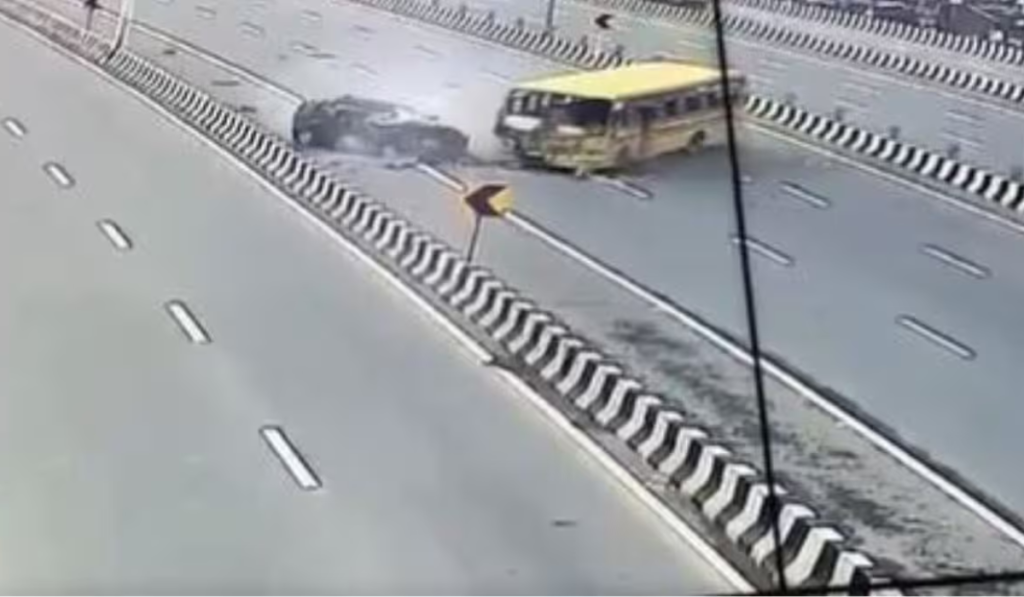 A tragic incident unfolded on the Delhi-Meerut Expressway as a bus traveling on the wrong side of the road collided head-on with a private vehicle, resulting in the loss of six lives. The bus had entered the wrong carriageway near Indirapuram and continued driving on the incorrect side for over 7 kilometers before the fatal accident occurred near Behrampur in Ghaziabad at approximately 6 am. The National Highways Authority of India (NHAI) confirmed the details of the incident, which were captured on CCTV cameras installed along the expressway.
According to authorities, the bus collision claimed the lives of six individuals who were traveling in the private vehicle. The deceased were identified as Narendra Yadav (45), Anita Yadav (42), Deepanshu Yadav (17), Himanshu Yadav (14), Babita Yadav (37), and Vanshika Yadav (8). The only survivors of the accident were Dharmendra Yadav (40) and his son Kartik Yadav (5).
The bus driver, identified as Prem Pal Singh, has been booked under various sections of the Indian Penal Code, including culpable homicide not amounting to murder, attempt to commit culpable homicide, and causing damages. The Ghaziabad traffic police revealed that the bus had accumulated 19 traffic violation challans since 2018, including parking on the wrong side of the road, driving without a seat belt, and overspeeding.
Authorities from the NHAI acknowledged that they were unable to intercept the speeding bus due to the limitations of their patrolling vehicles. They placed responsibility for preventing such incidents on the traffic police, stating that enforcement measures should have been taken at the entry points of the expressway. However, the bus had managed to enter the wrong carriageway near Ghazipur in Delhi, around 9 kilometers away from the accident spot, as per the Ghaziabad traffic police.
The collision's impact was severe, completely crushing the front of the Mahindra TUV vehicle. Rescue efforts involved the use of cutter machines to extricate the injured occupants. Investigations will further determine the exact circumstances of the accident, including the spot where the bus entered the expressway.
The incident has raised concerns about traffic violations and the practice of school buses being used for purposes other than ferrying students. Authorities have pledged to intensify efforts to address these issues through regular drives and enforcement actions. The tragedy serves as a tragic reminder of the importance of road safety and adherence to traffic regulations to prevent such devastating accidents on our highways.
Sources By Agencies