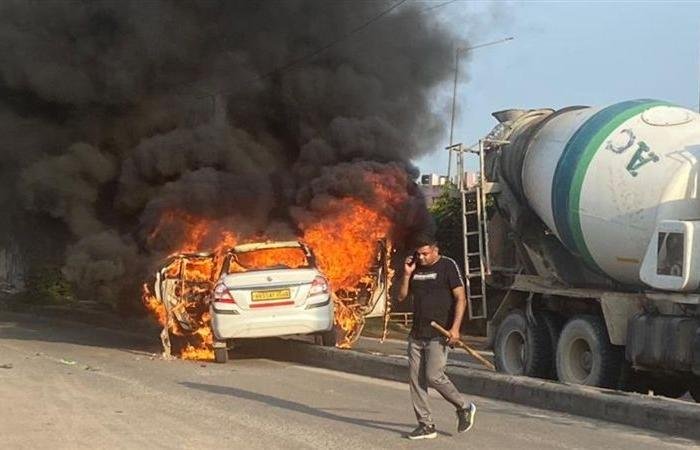 A peaceful religious procession in Nuh, Haryana, took a distressing turn as violence erupted, leaving thousands stranded and seeking refuge at a nearby temple. The Brij Mandal Jalabhishek Yatra, organized by the Vishwa Hindu Parishad, faced disruption when a group of young men on the Gurugram-Alwar National Highway obstructed the procession and began throwing stones at the participants.
The situation quickly escalated into chaos, with the mob targeting government and private vehicles, setting some on fire. The police, in their efforts to control the unrest, have already used teargas and fired shots in the air. However, the situation remains tense, prompting the authorities to call in reinforcements.
Approximately 2,500 men, women, and children, who had come to take part in the religious yatra, sought shelter at the Nulhar Mahadev temple as the violence intensified outside. Their vehicles were parked outside the temple, and the police have faced challenges evacuating them to safety.
Amid the turmoil, around 20 people sustained injuries, and one person was shot, necessitating immediate evacuation for medical attention. As a precautionary measure, internet services have been suspended, and prohibitory orders banning large gatherings have been issued to contain the situation.
Reports suggest that the clash was sparked by an objectionable video posted on social media by a Bajrang Dal activist. The video had allegedly been circulated by Monu Manesar, a Bajrang Dal member with suspected involvement in several criminal cases. He had openly challenged to stay in Mewat during the yatra, leading to heightened tensions among the locals.
Witnesses claim to have seen Monu Manesar and his associates during the religious procession, further fueling the confrontation between the opposing groups.
Authorities are currently working to restore calm and maintain public safety in the region. The incident has raised concerns over communal harmony and the need for peaceful coexistence among different religious communities.
As the investigation into the violence continues, efforts to identify the perpetrators behind the incident and take appropriate legal action are ongoing. The authorities are keen to prevent any further escalation of tensions and restore normalcy in the affected areas.
The situation serves as a stark reminder of the importance of maintaining harmony and tolerance, promoting dialogue, and resolving conflicts through peaceful means to ensure the safety and well-being of all citizens.
Sources By Agencies