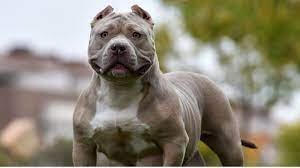 In a response to a fatal dog attack near Birmingham, UK Prime Minister Rishi Sunak has announced plans to ban American XL bully dogs, marking a significant step to enhance public safety and address concerns over dangerous dog breeds. This decision follows a spate of dog attacks that have raised alarm across the country.
Emergency services were alerted on Thursday to an incident in which a man was seriously injured after being bitten by two dogs near Birmingham. Despite prompt medical attention, the victim's injuries proved fatal.
The West Midlands Ambulance Service reported, "Upon arrival we found a man who had sustained multiple life-threatening injuries and was in a critical condition. Unfortunately, after arrival at the hospital, despite the best efforts, it became clear that nothing more could be done to save him, and he was confirmed deceased."
A 30-year-old man was arrested on suspicion of having dogs dangerously out of control, according to Staffordshire Police.
While the specific dog breeds involved are under investigation, Prime Minister Rishi Sunak expressed concern that an American bully XL, known for its stocky and muscular appearance, may have been responsible.
This tragic incident is the latest in a series of dog attacks that have prompted widespread outrage. Just days before, an 11-year-old girl was left seriously injured after an attack by an American bully XL and Staffordshire bull terrier crossbreed puppy. Interior Minister Suella Braverman called for "urgent advice" on whether to ban the American bully XL breed, describing it as a "clear and lethal danger to our communities, particularly to children."
Rishi Sunak reinforced the urgency of addressing this issue, stating, "It's clear this is not about a handful of badly trained dogs. It's a pattern of behavior and it cannot go on." While emphasizing dog owners' responsibility to control their pets, he announced plans to define the breed of dogs responsible for these attacks and subsequently outlaw them under the Dangerous Dogs Act. The prime minister has tasked ministers with collaborating with police and experts to expedite the process, with new legislation expected to be in place by the end of the year.
Currently, several dog breeds, including the pit bull terrier, Japanese tosa, dogo Argentino, and Fila Brasileiro, are already banned in the UK. The American bully XL, closely related to the pit bull terrier but larger, does not have legal restrictions and is not recognized as a breed by the UK's Kennel Club, making legislation challenging.
Sunak concluded, "These dogs are dangerous. I want to reassure the public that we will take all necessary steps to keep people safe." The proposed ban reflects the government's commitment to preventing further tragedies related to dangerous dog breeds.
Sources By Agencies