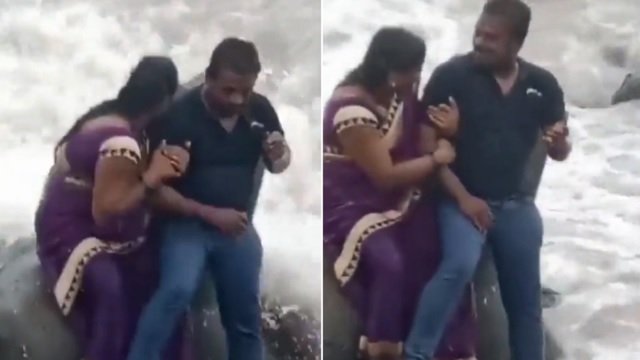 In a heart-wrenching incident, a 32-year-old woman, identified as Jyoti Sonar, was tragically swept away by a massive wave while taking pictures at Mumbai's Bandra Bandstand by the Arabian Sea. The incident occurred on June 9 during high tide, leaving her husband and their three children in a state of shock and devastation.
Jyoti Sonar, along with her husband, was sitting on a rock to capture some memorable photographs, while their children watched from a distance. The family was enjoying their time near the sea when sudden and powerful waves crashed against the rock, as captured in a chilling video that has since been widely shared on social media.
Tragically, a massive wave engulfed the couple, leading to Jyoti Sonar's untimely demise. In the distressing video, the children can be heard desperately calling out for their mother as the wave drags her away. Despite her husband's brave efforts to hold onto her saree and save her, he was unable to prevent the tragic outcome. Nearby bystanders managed to pull him to safety, but the loss of Jyoti Sonar was devastating for the family.
Mukesh Sonar, the grieving husband, recounted the incident to the local police, stating, "I lost my balance and we both slipped. A man held me while I grabbed my wife, but she could not be saved." The tragic event left the family shattered, with Jyoti Sonar's body being discovered by the Mumbai Coast Guard on June 10 after a 20-hour search operation.
Mukesh Sonar revealed that the family would frequently go on picnics, and on that particular day, they had planned to visit a different area. However, due to high tide, entry to Juhu beach was restricted, prompting them to change their plans and visit Bandra instead.
"Jyoti followed me into the sea, and we began enjoying the feel of the water splashing on our clothes. The kids were also trying to move towards us, but we restricted them since the sea was rough," shared Mr. Sonar with the local newspaper.
This tragic incident serves as a sobering reminder of the power and unpredictability of nature. It highlights the importance of exercising caution near the sea during periods of high tide and rough waters. Authorities and local organizations continually stress the need for public awareness and adherence to safety guidelines to prevent such heartbreaking accidents.
As the Sonar family grieves the loss of their beloved wife and mother, this incident serves as a poignant reminder to cherish and prioritize safety while enjoying recreational activities near the sea.
Sources By Agencies