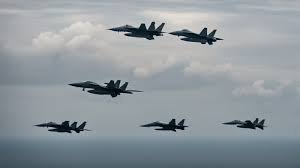 Tensions in the region have once again flared up as Taiwan's defense ministry reported the detection of 27 Chinese air force aircraft, including fighter jets, within its air defense identification zone. The incident marks another concerning development in the long-standing dispute between China and Taiwan, with the island nation viewing itself as democratically governed and China asserting it as its own territory.
Over the past 24 hours, Taiwan's defense radar systems tracked the movement of the 27 Chinese military aircraft, most of which were observed flying towards the waters southwest of Taiwan. This surge in Chinese military activity near Taiwan has been a source of increasing concern for the island nation as Beijing continues to assert its sovereignty claims.
Taiwan, governed democratically, has consistently raised objections to heightened Chinese military maneuvers near its territory. These actions by China are perceived by Taiwan as attempts to exert control and pressure on the island, thereby undermining its sovereignty.
The situation underscores the long-standing tensions between China and Taiwan, with the latter seeking to maintain its autonomy and self-governance while facing constant pressure from the Chinese government. Beijing, on the other hand, has repeatedly stated its intention to reunify Taiwan with the mainland, even if it means using force.
The international community closely monitors these developments, as any escalation in the Taiwan Strait could have far-reaching implications for regional stability. The United States, in particular, has expressed its support for Taiwan and its commitment to the island's defense, raising concerns about the potential for conflict in the region.
As China continues its military activities near Taiwan, the situation remains highly sensitive, with the potential for further escalations. The global community will be watching closely for any developments that could impact the fragile balance in the Taiwan Strait.
Sources By Agencies