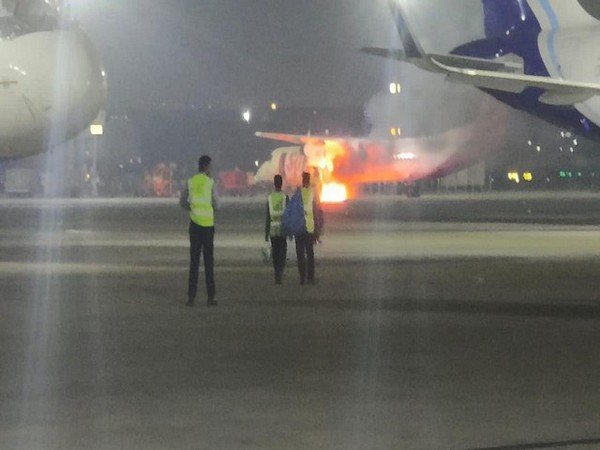 A SpiceJet aircraft caught fire at the Delhi airport during engine maintenance works, leading to a swift response by the fire brigade. Fortunately, the maintenance personnel are reported to be safe, as stated by the airline in a press release.
The incident involved an ATR aircraft undergoing routine maintenance when engineers detected a fire on one of the engines. Immediate action was taken to call in the fire brigade, which promptly doused the flames and prevented further escalation of the situation.
A passenger on another aircraft at the airport managed to capture the raging fire on camera. The video showed thick smoke emanating from the parked SpiceJet aircraft.
Coincidentally, on the same day, India's aviation regulator, the Directorate General of Civil Aviation (DGCA), took SpiceJet off the enhanced surveillance regime. The airline had been placed under enhanced surveillance due to serious safety concerns, particularly related to maintenance issues and incidents during the previous monsoon season.
The DGCA had conducted 51 spot checks across 11 locations in India, inspecting the Boeing 737 and Bombardier DHC Q-400 fleet of aircraft. The inspections resulted in 95 observations made by the DGCA teams, which were addressed by the airline following DGCA guidelines.
According to the DGCA, the findings were of routine nature and not deemed significant. SpiceJet took suitable maintenance actions to rectify the observations. Consequently, the airline has now been removed from the enhanced surveillance regime.
As the incident at Delhi airport is currently under investigation by the regulator, the safety of passengers and maintenance practices remains under scrutiny. SpiceJet is expected to cooperate fully with the investigation and ensure that appropriate measures are taken to prevent such incidents in the future.
Safety remains a top priority for India's aviation industry, and regulatory authorities continue to monitor and enforce strict guidelines to ensure the well-being of passengers and crew members. The DGCA's ongoing vigilance serves as a reminder of the importance of adhering to safety protocols in the aviation sector.
Sources By Agencies