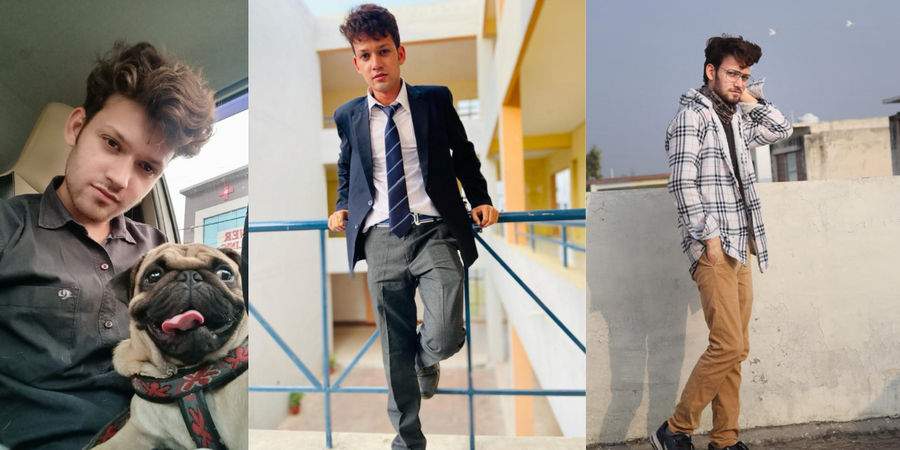 "Believing in yourself is the first secret of success," says our young talented actor Sourav Jain who is also known as Sourabh Jain by his family and friends. He says that no role is big or small, be it any role, the way you do is the most important thing. The more you practice, the more you act, and the more perfection you will be able to see in yourself.
Sourav Jain
He always wanted to be an actor since childhood and he has worked so hard to achieve his goals, when he was just 16 years old he used to create videos where he showed his talent for acting, he also started uploading those videos on YouTube, where he was appreciated by his YouTube audience and also by his near and dear ones.
At the same age, he decided to join a theatre group in Ambala Cantt where he learnt a lot more about the acting field, how to give expressions, how to say dialogues and much more about the field. He shared that his experience was so good, he was glad that at an early age he was able to experience such a spectacular thing. And not only had this he also given so many auditions for various roles, His enthusiasm for acting is commendable. 
His Journey as an Actor
"Hard work pays off as long as you believe in yourself", after giving so many auditions he was selected for the most important character role in one of the top Popular shows "Udaariyaan". He played a negative character as Aman, which was the role of the psychotic student where he also did some gun firing shots, and he was appreciated for his acting by everyone.
He has worked with many renowned actors and actresses, including Anita devgan, Mehtab Virk, Gurpreet Ghuggi, Nirmal Rishi, Karamjeet Anmol, and many more. Being able to experience such great actors and actresses and working with such big names offers a lot of new learning and vibes
He has also been a part of popular shows such as Crime patrol Sarthak, Punjabi TV Serial Tere Dil Vich Rehan De, Nayan – Jo Vekhe Unvekha. He has played many different roles, also acted on various OTT Platforms like Woow and PrimeShot, some of the web series are Searching Condom, Taxi, last wish, Seal 3, MRS Teacher, Vaishya and much more.
He has always been dedicated to his work, be it any role he has performed each role so perfectly. He has also done two Punjabi songs One with Parmish Verma – chori da pistol song and another one with Pavvy Virk – 24/7 song. Along with that, he has also done a few short films for YouTube some of them are: -Worked with the Writing Story of Manto, MMS 3, Bhabhi Ji, and Newspaper. 
His Upcoming Projects
In the near future, he will be seen in some industry-leading projects
After giving his best shots now he is ready to enter Bollywood, soon he will be seen in "Once upon a time in Ambala", and his Punjabi series wangaan is coming soon, some of his short films are also going to release soon.
When asked about his profession as an actor he said that I love to do acting as it was my dream since childhood but "Before becoming an actor, I always wanted to become a good person first" and these were the best words said by an Actor Sourav Jain.
During an interview with Sourav Jain, he was asked about his favorite actors, actresses, and singers. He Wisely Replied There is no star he does not admire, whether it is an actor, an actress, or a singer. He loves every talented actor, actress, or singer on the rise.
Connect with him to know more about his upcoming projects:-
Instagram: – https://www.instagram.com/ur_sourabh/
Facebook: – https://www.facebook.com/sourav.jain.140193