The world of Shree White Cement is one without boundaries – changing and challenging every day. We make cement and through it we touch lives of millions of pieople every day. From the house you live in, the roads you to drive on, to the bridges you cross, we strive to deliver unparalleled quality through our customised products and value added solutions.
Surendra Dadhich CEO of wallgrip wallputty and white cement. We are manufactrare and expoter where also doing work with many companies.
Shree White Cement is a unit of Wall putty Ltd., Shree White cement commenced its production of white cement in India, and since its inception, and Shree White cement has cemented its place as a market leader in the entire cement category. Shree White brand boasts an impressive portfolio of white cement-based surface finishing products, that is only enable exquisite interior design, but also protects surfaces from weathering. The brand has constanty reinvented itself, by creating products that fulfil the needs of the ever-changing consumer attitude, and thus effectively becoming a huge part of the construction evolution in India. Shree White cement became the best white cement company for distributor and dealership in India.
Since Shree White founding year in 2012, Shree White Cement have been committed to the cause of sustainable, inclusive growth and this has been possible by building a culture that promotes continuous improvement, innovation, care and collaboration, through which we drive operational excellence in products, processes and people. This has made us a company that cares for its customers and has enabled us to serve markets across India and the Middle East. Shree White Cement has a consolidated Cement Production Capacity of 47.4 million tonnes per annum (including overseas) and a Power Generation Capacity of 752 Megawatts.
Wallgrip wall putty, was just a sapling few years ago. However, our strong core values committed staff and our desire toserve our customers with the best helped this sapling to cultivate into a big tree of million colors.
Our operations span across India and the UAE with 4 integrated plants in India, 1 in UAE and 9 Grinding Units. Shree Cement was also among the industry pioneers for the use of alternate fuel resources in the production of cement and today we have the highest installed capacity of Waste Heat Recover Power plants in the world, second only to China.
While our past performance has been among the best in the industry we don't believe in resting on laurels since it breeds complacency. Instead, we take pride in a culture that encourages taking opportunities as challenges and pursuing them to build a competitive edge. And that enables us to continue to break new grounds, create new synergies and set new benchmarks.
To be the most trusted Indian company world wide be creating value to all thus growing phenomenally
To adopt best practices and to become a 1 million tone producing and selling organization by the year 2022
To be a premium global conglomerate, with a clear focus on each of the businesses.
To deliver superior value to our customers, shareholders, employees and society at large.
Lead in creating prosperity and happiness for all stakeholders through innovation and sustainable practices.
As an organization, we spread happiness amongst everyone connected with our ecosystem and create wealth for investors, employees. Business associates and communities where we operate by experimenting and implementing new ideas for improving efficiencies and maximisig the ratio of output product to input resources.
Pot Life – 80 Mins, Finish – smooth (Matt) Recoat time – 6-8 Hrs coverage – 12-15 sq ft/kg available packaging size – 1kg 20 kg 40 kg packaging type bag application construction.
Our benefits Prevents Flaking, prevents the growth of algae and fungi, Resists dampness on painted surface, Applicable on moist surface, effectively reduces the consumption of paints, possesses anti- carbonation property, accepts any kind of paint or distemper application on it.
Our special benefits Elimination of dampness, 2x water resistance, whitest walls.
Distributor and dealership contact us to join us! Get coupon of 200 Rs. From 20. We are highest supplier of Wallgrip Putties in Yemen, Ethiopia Bahrain, UAE, Dubai, Sharjah, Mazabique, Somalia, Kenya.
Looking for Distributor and Importer in Tanzania and UAE Dubai – good packaging, quality (ISO certified), credit facilities, sales team, marketing support. Mansoon offer for Dealers and Distributors- cooler, refrigerator, mobile, mixer, television, etc. Get coupon cash Rs. 30 and Rs. 100 from distributor or dealership write and send Wp coupon on whatsapp:-9309297054 for coupon.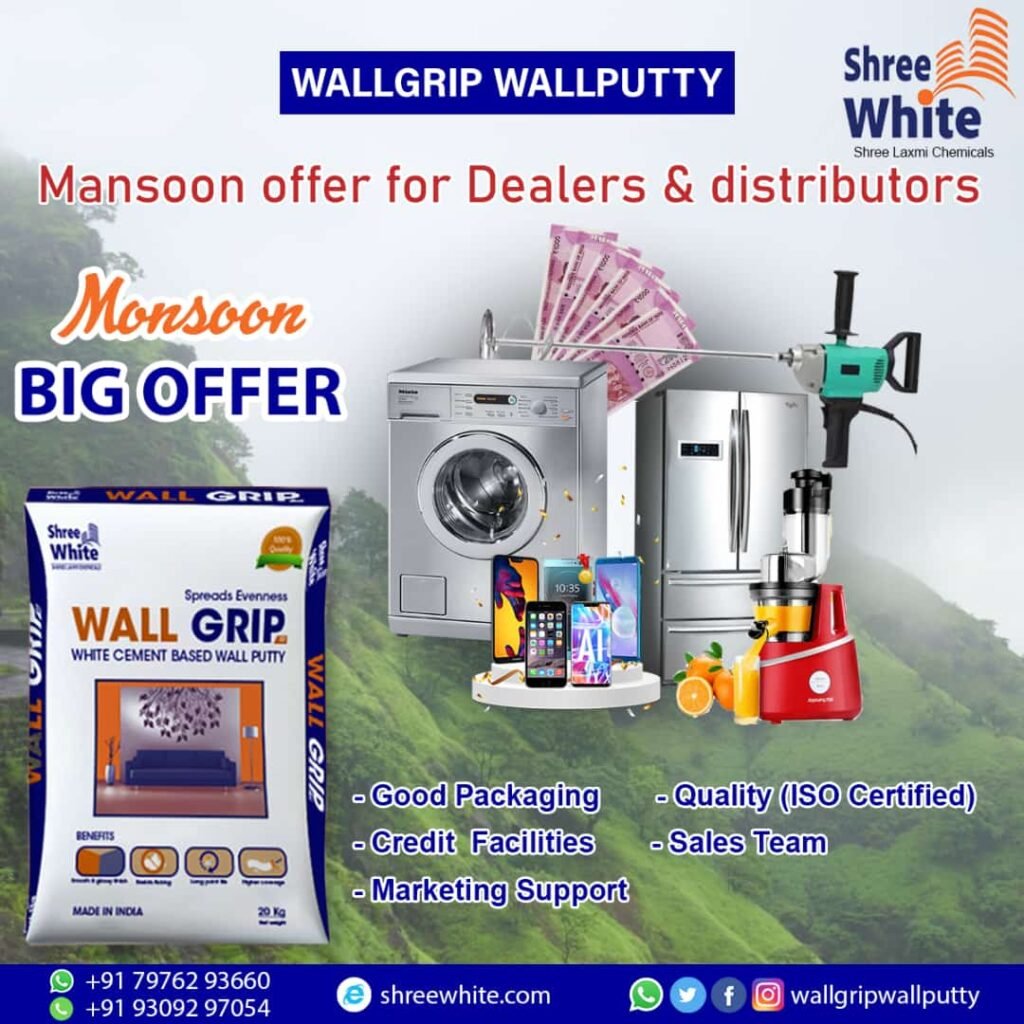 Being compassionate towards our communities and our environment Working together as one family; connect personally with each other Demonstrating humane touch in the way we work Prioritising opportunities and challenges to enable swift decision making. Being flexible in our approach to find effecrive business solutions Experimenting with new ideas to improve continuously striving to take risk for adding value to the business To extract the essence and keep communication simple Believing in each other with mutual respect. Promoting honest and open communication. Building an environment of freedom with responsibility Ensuring optimum outcomes in everything we do at work achieve our targets consistently with minimal costs. Also search us on Face book Twitter Instragram YouTube Google search.
Website= www.shreewhite.com