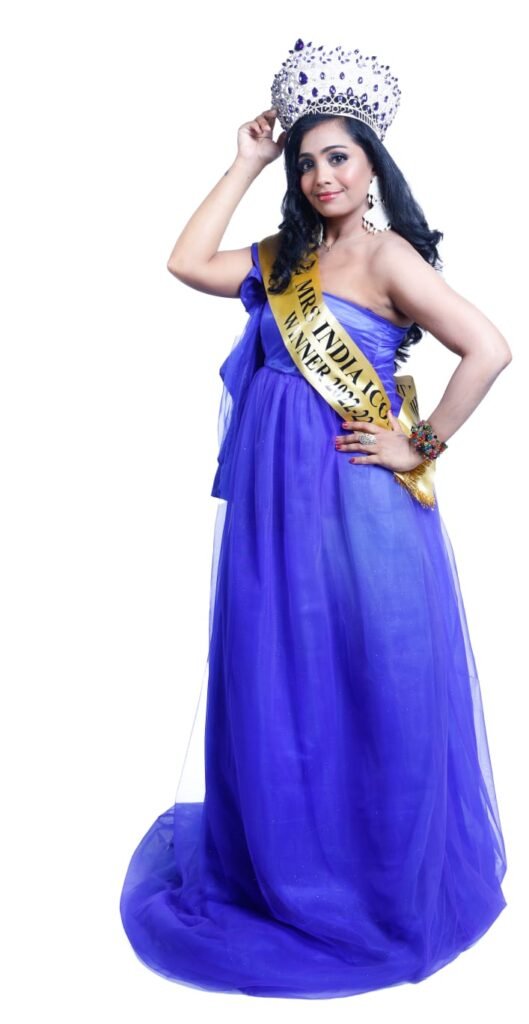 B. Krishna Kumari, a rising star in the world of modeling, has recently made headlines by winning the prestigious Crown Main Title at the highly acclaimed MRS India Icon 2023 beauty pageant. Hailing from Andhra Pradesh's West Godavari District and currently residing in Bangalore, Karnataka, Krishna Kumari's journey from being a passionate yoga practitioner to a recognized model has been nothing short of remarkable.
Krishna Kumari, the daughter of B. Rajendra Prasad and Sathi Anusuyavathi, has always been known for her talent and determination. With a diverse range of interests and a strong educational background, she has carved a unique path for herself. After completing her B.Com (Computers) and pursuing diplomas in Montessori and Pre-Primary Education, Krishna Kumari delved into the world of modeling in 2021.
In the recent MRS India Icon 2023 pageant, Krishna Kumari's exceptional grace, confidence, and photogenic appeal captivated the judges and audience alike, leading her to secure the coveted Crown Main Title. This prestigious recognition is a testament to her hard work, dedication, and undeniable talent.
However, Krishna Kumari's achievements extend far beyond the MRS India Icon competition. Her impressive list of accolades includes winning titles such as Best Photogenic Face, Best Confident, and 1st Runner-Up at various beauty pageants. Notably, she was also honored with the International Golden Achievement Award in 2023 for her outstanding contributions to the modeling industry.
Apart from her successful modeling career, Krishna Kumari is an avid yoga practitioner and holds Guinness World Records for her incredible yoga poses. Her dedication and flexibility were showcased when she broke records for holding challenging poses like the Camel pose, Side Plank on the left side, Plough pose, Bow pose, and Wheel pose for extended durations.
Beyond her professional endeavors, Krishna Kumari nurtures a wide range of passions and hobbies. She is an accomplished singer, dancer, and artist, showcasing her creativity and talent in various art forms. Additionally, she actively engages with social media platforms, captivating audiences as a reel creator.
Krishna Kumari's journey serves as an inspiration for aspiring models and individuals looking to pursue their passions. Her dedication to both her physical and artistic pursuits demonstrates the importance of holistic growth and self-expression.
As she continues to make strides in the modeling industry, Krishna Kumari's success story is a testament to her unwavering commitment, drive, and passion. With her talent, achievements, and vibrant personality, she is poised to make a lasting impact on the world of fashion and beauty.