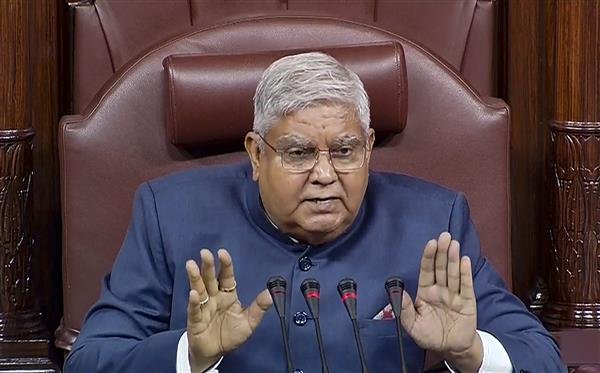 In a moment of levity amidst the ongoing deadlock in Parliament, Rajya Sabha Chairman Jagdeep Dhankhar responded to Leader of Opposition Mallikarjun Kharge's claims that he appeared angry during a recent meeting. Dhankhar, who has been married for over 45 years, asserted that he never gets angry, especially when dealing with authority figures.
During the exchange in the Rajya Sabha, Kharge playfully suggested that the chairman appeared angry during a previous meeting. To this, Dhankhar humorously replied, "I am a married man for over 45 years. Believe me, sir, I am never angry. Mr. Chidambaram, a very distinguished senior advocate, will know as senior advocates we have no right to show anger at least to the authority. You are an authority, sir. I am never angry, please modify."
Kharge, in a light-hearted tone, retorted, "Probably, you don't show your anger. But you get angry." The exchange garnered laughter from the parliamentarians present.
The opposition has been raising concerns over the deadlock in Parliament, particularly regarding the Manipur debate, which they are pushing to be discussed under Rule 267. Kharge proposed holding a meeting in the chairman's chamber at 1 pm to discuss the issue further. However, there were murmurs of protest in the House.
In response to Kharge's accusation of "defending the Prime Minister so much," Dhankhar clarified his role as the Rajya Sabha Chairman. He emphasized that as the head of the legislative body, his primary focus is to defend the Constitution and protect the rights of the people. Dhankhar expressed that he is not involved in party politics and is solely concerned with governance and the growth of the country.
Asserting the significance of India's democracy and its recognition on a global scale, Dhankhar mentioned that the Prime Minister does not require his defense, as he has been acknowledged and appreciated on international platforms.
"I am not required to defend anyone. I am required to defend the Constitution. I am required to defend your rights," stated Dhankhar, underscoring his commitment to upholding the principles of the nation.
As the parliament continues to address the ongoing deadlock and engage in debates on various issues, Dhankhar's light-hearted response serves as a reminder of the importance of maintaining a positive and constructive atmosphere within the House.
In his role as the Rajya Sabha Chairman, Dhankhar remains dedicated to facilitating productive discussions and ensuring that the democratic process continues to function efficiently for the benefit of over 1.3 billion citizens of India.
Sources By Agencies