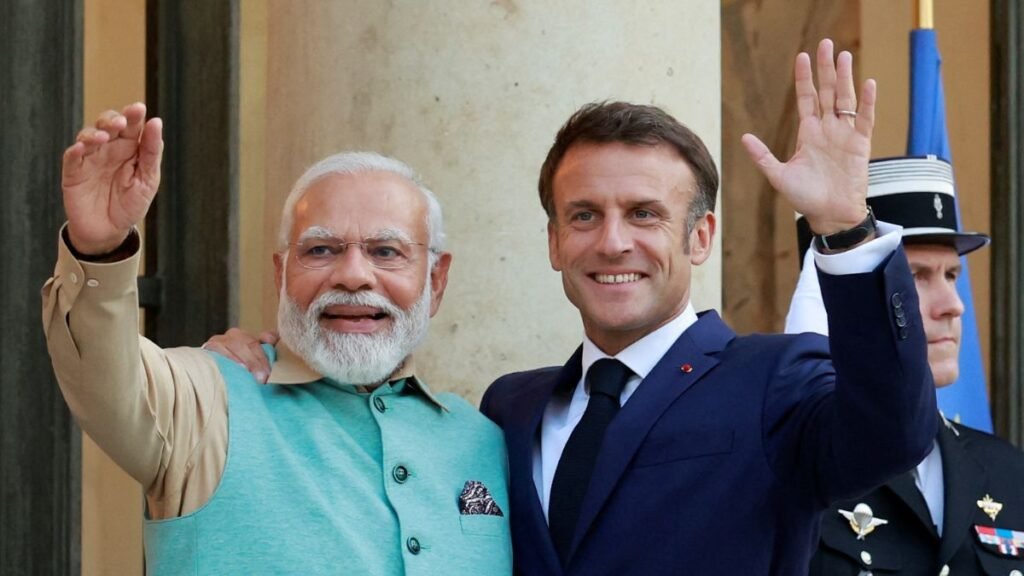 Prime Minister Narendra Modi emphasized the importance of France as a natural partner in India's journey towards becoming a developed nation during a joint briefing with French President Emmanuel Macron in Paris. The leaders highlighted the strong strategic partnership between the two countries, celebrating 25 years of collaboration and setting ambitious goals for the future.
PM Modi praised France's role in the 'Make in India' and 'Aatmanirbhar Bharat' initiatives, recognizing the nation as a crucial partner. The prime minister emphasized the foundation of Indo-French relations lies in defense ties, expressing their commitment to jointly fulfill the naval requirements of friendly nations. Modi welcomed the agreement between Indian Oil and France's Total company for the export of liquefied natural gas (LNG), highlighting its contribution to India's clean energy transition.
In a significant announcement, PM Modi revealed the government's plan to launch India's Unified Payments Interface (UPI) in France, further enhancing digital financial transactions between the two countries. This move highlights the commitment to foster closer economic ties and promote ease of financial transactions for businesses and individuals.
Furthermore, the prime minister shared his enthusiasm for the launch of Chandrayaan 3, India's upcoming lunar mission. Modi commended the achievements of Indian scientists and emphasized the longstanding cooperation between India and France in the field of space exploration. New agreements between the space agencies of both countries were also highlighted, underscoring their commitment to further collaboration and advancements in space technology.
The leaders discussed various other aspects of bilateral cooperation, including the opening of a new Indian Consulate in Marseille and the facilitation of long-term visas for Indian-origin individuals studying in France. PM Modi extended an invitation to French universities to establish campuses in India, promoting educational exchanges and opportunities for students. Macron reciprocated by expressing their goal of sending 30,000 French students to India by 2030 and ensuring a favorable visa policy for young Indians seeking higher education in France.
As the briefing concluded, both leaders expressed excitement about Indian athletes' participation in the upcoming Paris Olympics, highlighting the strong sporting ties between the two nations.
The joint briefing showcased the depth and breadth of the Indo-French partnership, emphasizing mutual cooperation in various fields, including defense, clean energy, space exploration, education, and sports. The commitment to collaboration and shared goals between India and France reaffirms their status as strategic partners and paves the way for strengthened bilateral relations in the years to come.
Sources By Agencies