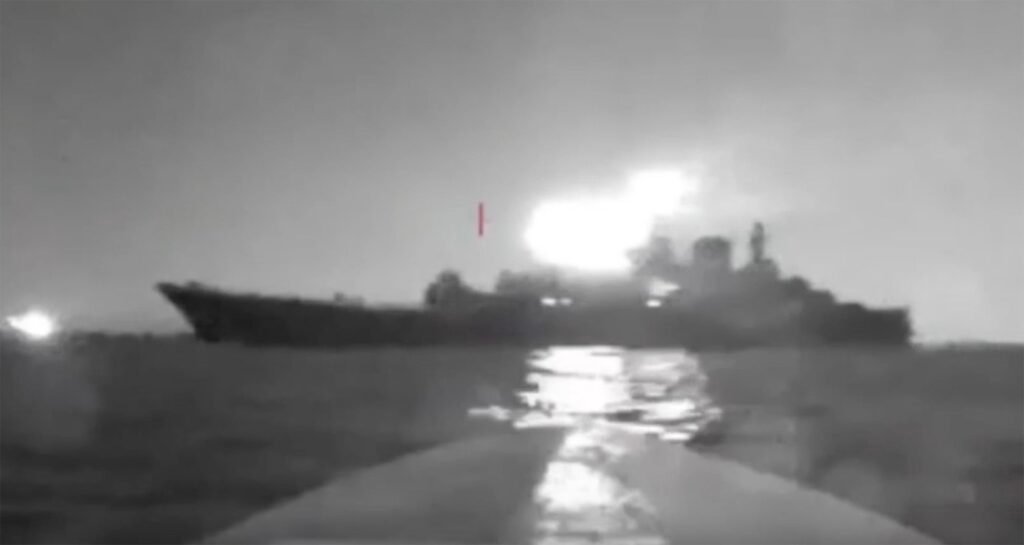 In a significant escalation of hostilities in the Black Sea, Ukrainian sea drones launched an attack on a Russian oil tanker, the Sig, near the Kerch Bridge connecting Russia to the occupied Crimean Peninsula. The tanker, already under US sanctions for supporting the Russian military in Syria, sustained damage to its engine room in the attack, according to Russian state news agency TASS.
The incident adds to the mounting tensions in the region, with Russia previously imposing a de facto blockade on a substantial portion of Ukraine's grain exports and targeting Ukrainian ports. In response, Ukraine issued a warning, treating ships bound for Russian ports as potential military targets. This strategic move aimed to impose an "insurance blockade," freezing commercial maritime activity if insurers refuse coverage for ships traveling to and from Russian ports on the Black Sea.
While Ukrainian authorities remained silent on the drone attack, Vasyl Maliuk, head of Ukraine's Security Service, indirectly acknowledged the strike, stating that such actions were "an absolutely logical and effective step in regard to the enemy." Maliuk urged Russian ships to leave Ukraine's territorial waters.
The Russian oil tanker attacked by the drones was linked to Transpetrochart, a Russian company sanctioned for its involvement in illicit jet fuel transfers to the Russian military in Syria. The tanker had loaded fuel from a refinery in Feodosia, located in the occupied Crimea.
Maritime analysts underscore the potential impact of these attacks, as they demonstrate Ukraine's capability to disrupt Russia's vital military supply lines and economic links. Targeting civilian ships carrying supplies and weapons for the Russian armed forces poses a significant challenge for Russia's operations in Syria.
The Kerch Bridge, a crucial link connecting Crimea to Russia, has been a repeated target of attacks. The latest drone strike prompted Russian authorities to halt traffic on the bridge temporarily. The bridge's disruption poses a headache for Russia, as it is a symbol of their regional power and a key asset since the annexation of Crimea in 2014.
Moscow's use of civilian ships for carrying military supplies has been a source of tension in the region. Ukraine has called on Turkey to block ships transporting weapons through the Bosporus into the Black Sea. However, Turkey, bound by the Montreux Convention, cannot block civilian ships, even those working for the Russian government, as it guarantees freedom of navigation for commercial vessels.
Russia's withdrawal from an international agreement facilitated by Turkey and the United Nations further strained relations with Ukraine. The agreement allowed commercial ships to transport grain from Ukraine, but the withdrawal led to weeks of attacks on Ukrainian ports and grain-exporting infrastructure. Despite this, Russia continues to ship from its own Black Sea ports, which play a crucial role in its economy.
Western sanctions have prompted Russia to establish a parallel economy to support its oil industry, including a separate insurance scheme and a "ghost fleet" of oil tankers operating outside the international maritime market.
The situation remains highly volatile, with potential implications for regional stability and international relations.
Sources By Agencies