A firm that defends your all-legal issues with Banshi® Advocates
Banshi® Advocates is a well-known legal team in New Delhi owned by Advocate Bansidhar Pramanik. The motive of the firm is to provide legal awareness and legal services.
The attorney at Banshi Advocates includes exceptionally skilled lawyers and advisors who have all received approval from the Bar Council of India.
Banshi® Advocates promotes all commercial ventures, both domestically and internationally. Banshi Advocates has branches all over India, especially in metro cities like Mumbai and Kolkata.
Banshi® Advocates deal with all types of legal issues, including corporate laws, contract analysis, partnerships, contract legalities, medical law and litigation, fraud cases and civil abuses, tax law and rights, property disputes, business compliance, and every legal document.
In addition, we offer solutions for property law and leases, criminal law and divorce, litigation and disputes, wills and estates, powers of attorney, company law, and legal compliance.
Banshi® Advocates handle a variety of registration-related issues, including company registration, NGO and trust registration, trust, property registration, income tax filing, auditing and assurance, startup and MSME registration, ISO certificate and trademark registration, and legal documentation, and advisory services.
History of Banshi® Advocates
Advocate Bansidhar Pramanik launched Banshi Advocates, which has been operating successfully for the past 7 years. The cornerstone of all legal services, Banshi Advocate has helped several clients obtain justice throughout their tenure.
It has successfully captured the market in Delhi, Kolkata, and almost across India.
The founder of Banshi® Advocates, Bansidhar Pramanik is an Indian Advocate, has a team of similarly skilled attorneys, and their dedication to their profession is what makes the firm successful.
Why Banshi® Advocates
Banshi Advocates are spread all over the world our service locations include Gauhati, Assam, Kolkata, West Bengal, Delhi, Mumbai, Maharashtra, Patna, Bihar, Karnataka, and overseas including London, UK
Banshi Advocates is a government-authorized agency it is a perfect solution for all legal solutions best in the industry.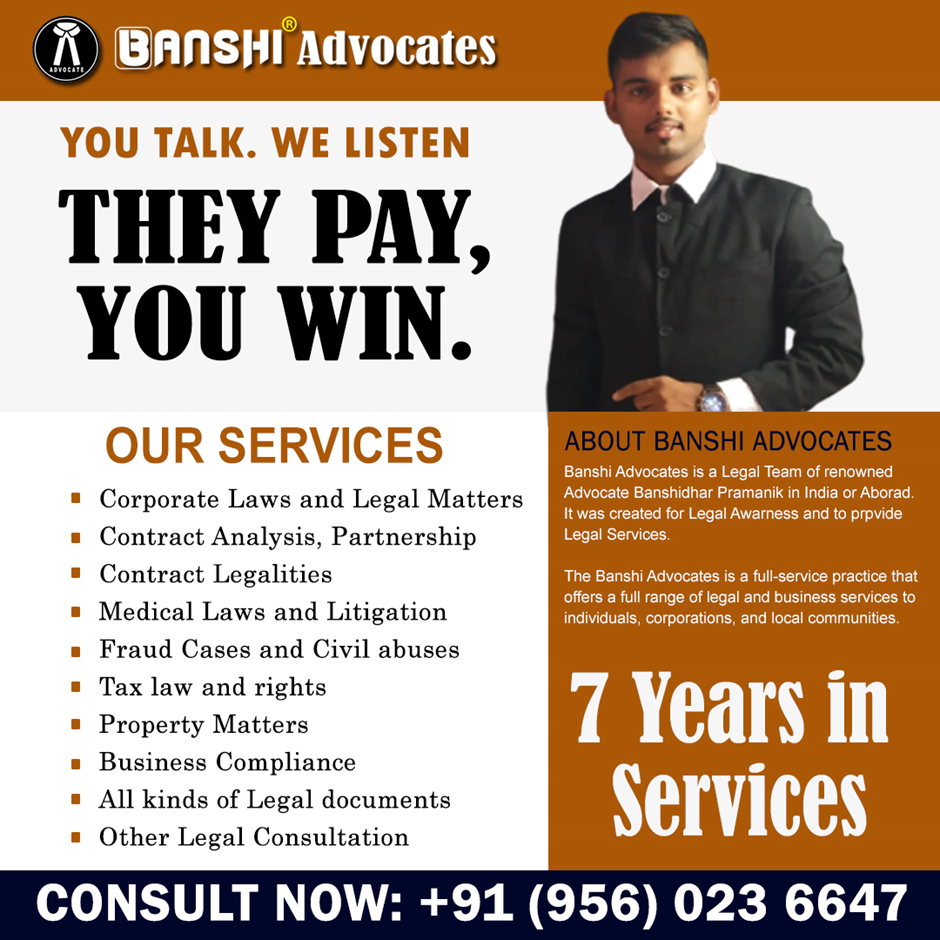 Founder Banshidhar Pramanik and his team all are qualified in LLB (Legal Advisor) and approved by the Bar Council of India.
To get the best legal service to connect to Banshi® Advocates
Address: Banshi Advocates, Dahiya House No. 4, Badarpur Border, New Delhi, Delhi, India, 110044
Phone: +91 9560236647
Email: advocates@banshi.in
Website: www.advocates.banshi.in