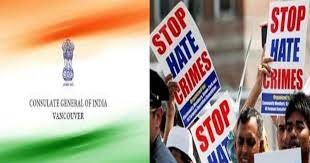 The Consulate General of India in Vancouver has issued a stern condemnation of a recent assault on a 17-year-old Sikh high school student in British Columbia, Canada. The incident, which is being investigated as a hate crime, occurred at a bus stop, raising concerns about the safety and security of Sikh individuals in the region.
According to reports, the Sikh student was brutally attacked at the intersection of Rutland Road South and Robson Road East on Monday. The assault followed an altercation aboard a public transit bus, leading to the victim being expelled from the bus along with the assailants.
The Royal Canadian Mounted Police released a statement, saying, "Officers determined a 17-year-old Sikh student was either bear or pepper-sprayed by another teenage male after exiting a public transit bus on his way home."
The World Sikh Organisation of Canada has alleged that the attack began while the student was still on the bus. Witnesses claim that the victim was initially prevented from boarding the bus by two individuals who subsequently allowed him to enter. However, they began verbally threatening him and recording him with their mobile phones from a close distance. When the student turned away, the situation escalated, leading to physical violence.
The shocking part of this incident is that the bus driver did not intervene and, in fact, ordered both the Sikh student and the attackers off the bus at the Rutland and Robson stop. The situation took a darker turn after they disembarked, with the victim being subjected to further violence, including being pepper-sprayed by the assailants. Bystanders eventually stepped in to stop the assault.
This incident has drawn strong condemnation from various quarters. The Consulate General of India in Vancouver took to social media, stating, "@cgivancouver strongly condemns assault on an Indian national in Kelowna and requests Canadian authorities to investigate the incident and take prompt action against the perpetrators."
Guntaas Kaur, Vice-President for British Columbia at the World Sikh Organisation, expressed shock and dismay, saying, "Monday's attack on a Sikh high school student in Kelowna is shocking and unacceptable."
This incident is the second instance of violence against a Sikh youth on public transit in the city this year. In March, a 21-year-old Sikh student from India, Gagandeep Singh, was attacked in British Columbia by a group of unidentified men who ripped off his turban and subjected him to physical assault.
The assault on the Sikh high school student has raised concerns about the safety of Sikh individuals in Canada and the need for measures to combat hate crimes and discrimination. Authorities are being urged to swiftly investigate the incident and bring the perpetrators to justice to ensure the safety and security of all residents in the region.
Sources By Agencies