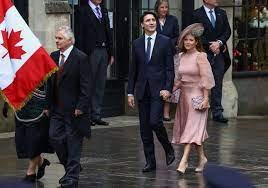 Canadian Prime Minister Justin Trudeau and his wife, Sophie Gregoire Trudeau, have announced their decision to separate after being married for 18 years. The couple shared the news through statements posted on their respective Instagram accounts, citing "meaningful and difficult conversations" that led to the decision. A statement from the prime minister's office confirmed that both parties have signed a legal separation agreement.
The news comes as a surprise to many, as Justin Trudeau and Sophie Gregoire Trudeau have been a prominent couple in Canadian politics and society. They tied the knot in 2005 and have three children together – Xavier, Ella-Grace, and Hadrien, aged 15, 14, and 9, respectively.
Despite their separation, the couple has emphasized their commitment to co-parenting and maintaining a close-knit family environment. The statement from the prime minister's office assured the public that they will continue to focus on raising their children in a safe, loving, and collaborative manner. The family plans to spend time together on vacation, starting next week.
In light of the announcement, the Prime Minister's office has requested that the media and the public respect their privacy during this challenging time. Separations are often personal and emotionally charged, and the Trudeaus seek to navigate this period privately.
This separation marks a significant moment in Canadian political history, as Justin Trudeau is only the second Prime Minister to announce a separation while in office. His father, Pierre Trudeau, also a former Prime Minister, experienced a similar situation when he separated from his wife, Margaret, in 1979. The couple officially divorced in 1984.
Justin Trudeau's leadership has been marked by his father's legacy and a charismatic and youthful approach to politics. However, in recent years, his popularity has faced challenges due to scandals, voter fatigue, and economic inflation. As he continues his tenure as Prime Minister, Canadians will be watching closely to see how this personal development might impact his public role.
The announcement of their separation has garnered significant attention from the Canadian public and media, highlighting the ongoing fascination with the personal lives of public figures. Nonetheless, the focus remains on the couple's well-being and the welfare of their children as they navigate this new chapter in their lives.
In a time of political uncertainty and a rapidly changing landscape, Canadians will undoubtedly rally behind their Prime Minister and his family, offering support and understanding as they move forward during this period of transition.
Sources By Agencies