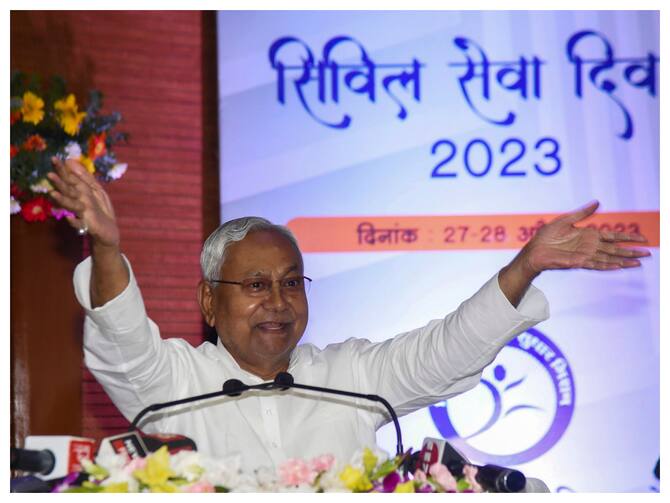 Bihar Chief Minister Nitish Kumar has put forward the idea of holding Lok Sabha elections earlier than scheduled, potentially within this year itself. His comments come ahead of the Opposition unity meet set to take place in Patna on June 23.
Speaking at an event in Patna, where he inaugurated and laid the foundation stone for 5,061 schemes related to rural development projects, Nitish Kumar stated that he had been informed during a departmental review meeting that all projects would be completed by January 2024. He urged officials to expedite the work, emphasizing that the timing of the Lok Sabha polls remains uncertain and it is not necessary to assume they will only occur next year.
Kumar addressed officials through video-conferencing and urged them to complete the projects ahead of schedule. He emphasized the importance of conveying a clear message to the public about the achievements of the state government, expressing his satisfaction if the work is completed early.
Taking a swipe at the central government, the Bihar Chief Minister highlighted the difference in funding for rural road construction. He mentioned that during former Prime Minister Atal Bihari Vajpayee's tenure, rural roads were built using 100% central funds. However, under the current government, the central contribution has been reduced to a 60:40 ratio (Centre:state) under the PM Sadak Yojana. Nitish Kumar assured that the state government would take the initiative to construct these roads independently.
The issue of early Lok Sabha elections may be discussed during the Opposition unity meet on June 23, with the majority of Grand Alliance (GA) leaders expected to attend the gathering. However, the Bharatiya Janata Party (BJP) criticized Kumar's remarks, suggesting that he is using the idea of early elections for personal gain and to garner attention. The BJP spokesperson accused Kumar of being under pressure from the Rashtriya Janata Dal (RJD) to step down and elevate Tejashwi Yadav as the Chief Minister of Bihar, claiming that Kumar harbors ambitions of becoming the Prime Minister.
On the other hand, the RJD, which is a partner in the Janata Dal-United (JD-U)-led Grand Alliance, supported Kumar's apprehensions about early elections. The RJD spokesperson asserted that the BJP is feeling nervous due to the Opposition unity movement, rising inflation, and increasing unemployment, making it difficult for them to face the electorate.
As discussions surrounding the possibility of early Lok Sabha elections continue, political dynamics in Bihar and the nation as a whole will likely experience further shifts.
Sources By Agencies